Here's why LooLa is SE Asia's
Top Educational Destination
Our credentials:

• IBO ESS and Bio workshop site
• The owners of LooLa are acclaimed international educators
• LooLa has run more than 700 school trips || all ages || from 2 – 14 nights ||
• Educational partnerships with OBS, NUS, SMU, NTU, Polytechnics, and 100's of (inter)national schools
• Unparalleled safety record, co-author of Singapore's OE (Outdoor Education) Gold safety standards

Here's what you can expect:

• Our eco & community programs address all 17 UN SDGs.
• An amazing range of adventure activities –enough for 2 weeks or more!
• Medical peace of mind: iSOS hospital at 25 minutes, optional 24/7 doctor stand-by
• Packages are: door-to-door || fully customizable || hassle-free || all-inclusive || safety-audited
• Your students will: Gain resilience & independence || get exposure to different cultures || learn to appreciate nature || do amazing adventure activities || and above all: have fun! ||

Below you'll find an overview of the possible activities, our credentials, the range of accommodation on offer for the various camps, and how you can make sustainability central to your program.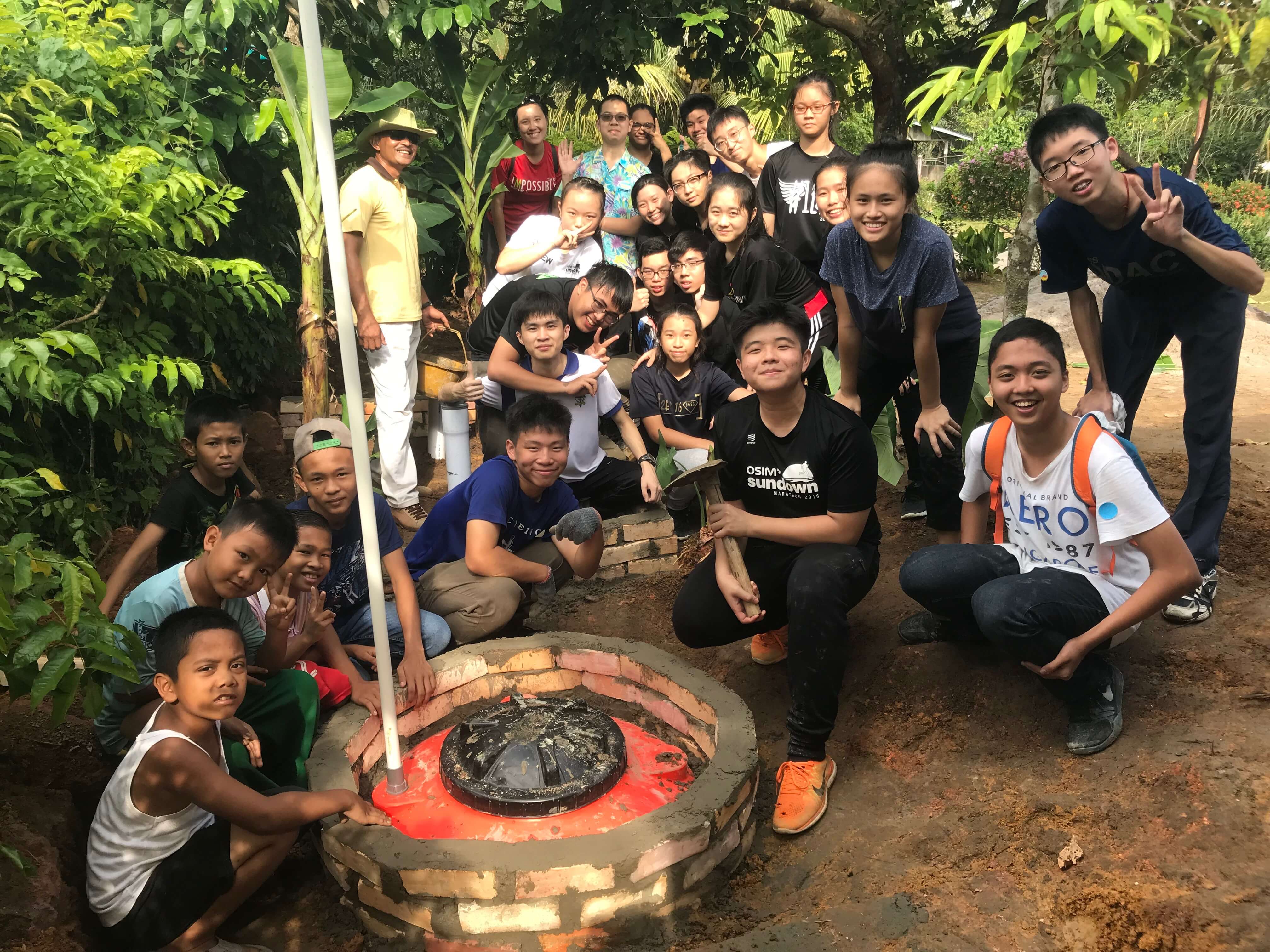 a rich and impactful experience
Our (eco) activities – part of your package!*
Slide or click to have a quick look, and if you're ready to choose, click the yellow button below!
*Please note that a small surcharge applies to off-site activities.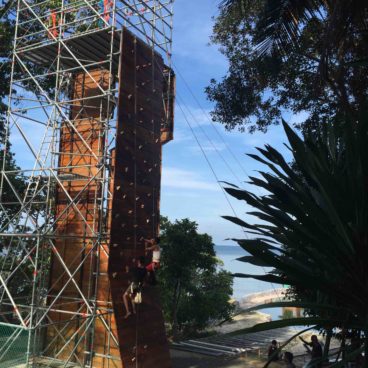 Rock climbing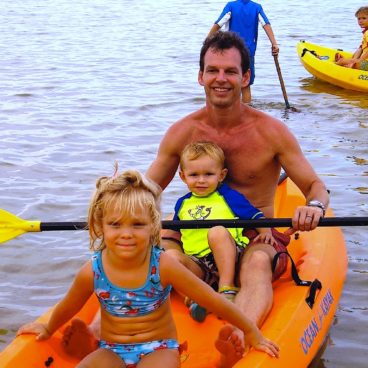 Kayak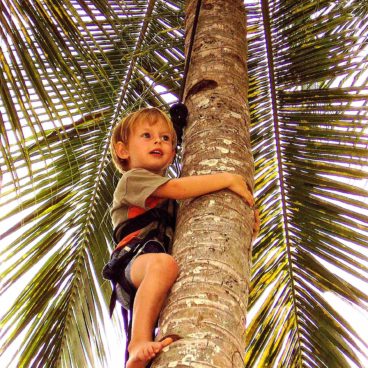 Coconut Tree Climbing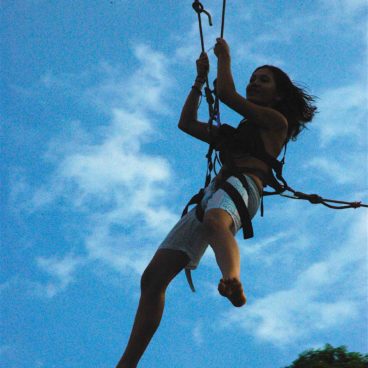 Flying Fox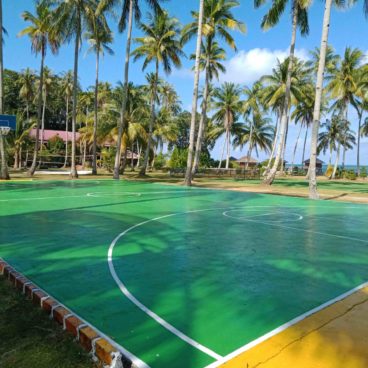 Basketball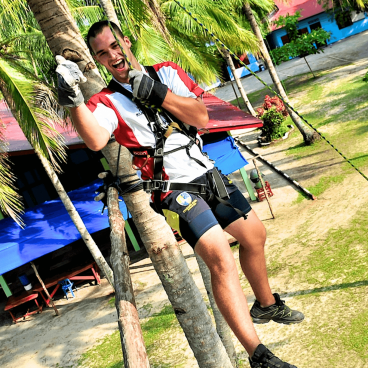 Skywalk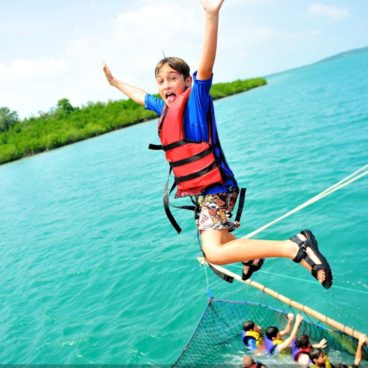 Boat & Boomnet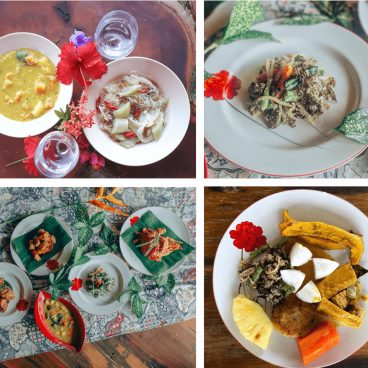 Plant-based cooking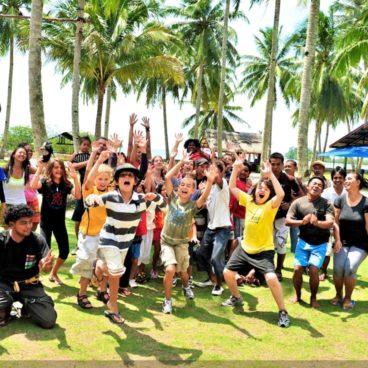 Happiness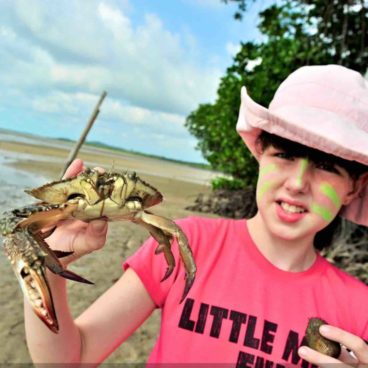 Seaflat Marine Walk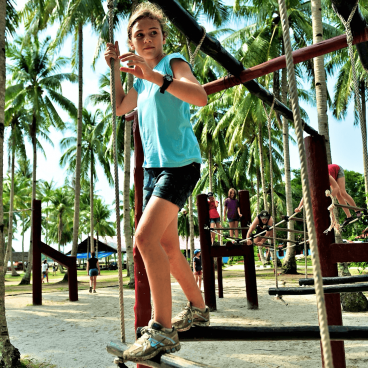 Obstacle Course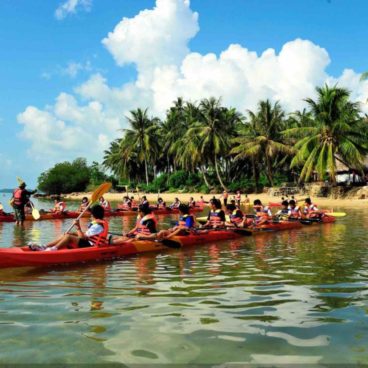 Dragon-Kayak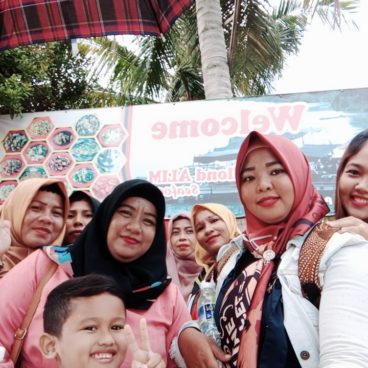 Gender-equality program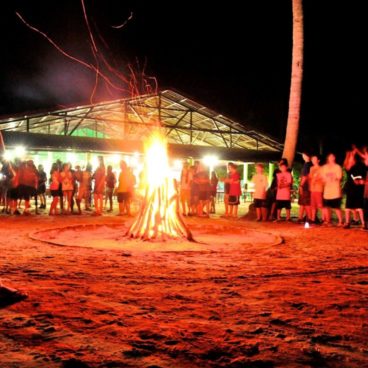 Bonfire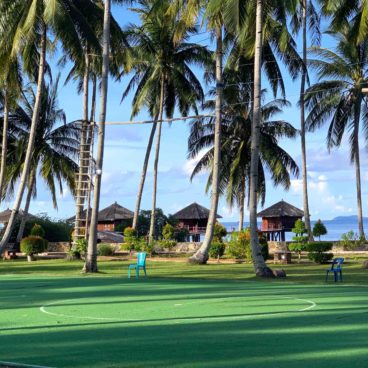 Futsal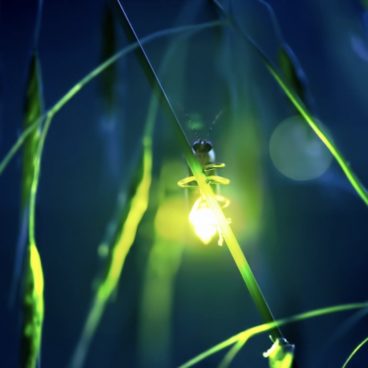 Firefly Boat Tour *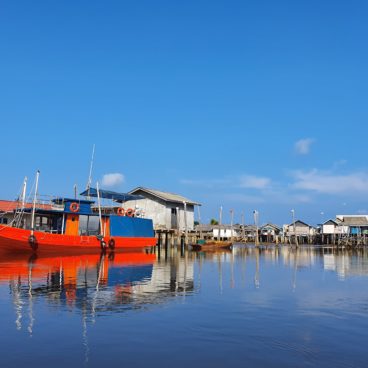 Boat expeditions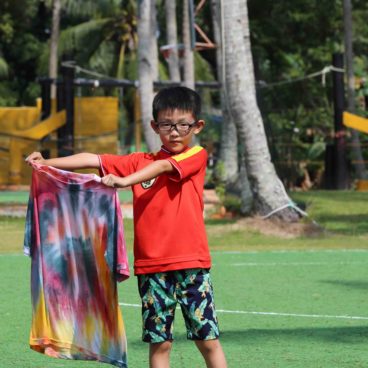 Tie Dye *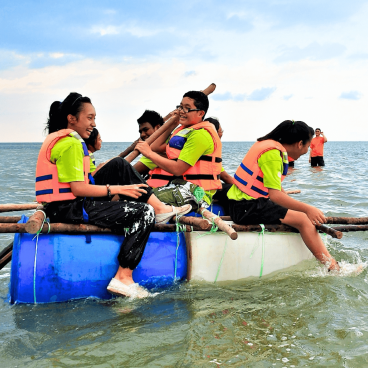 Raft Design & Race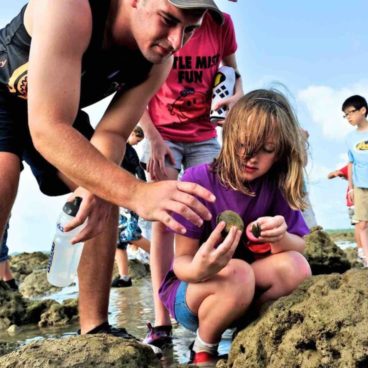 Marine surveys *
Petanque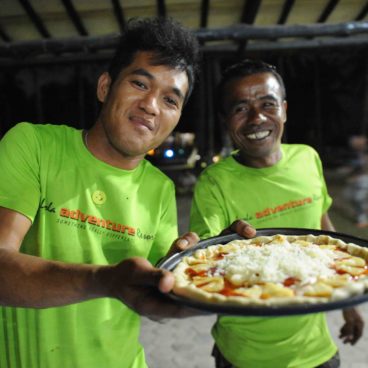 Pizza making *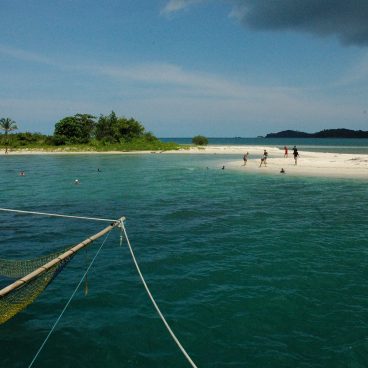 Survivor island *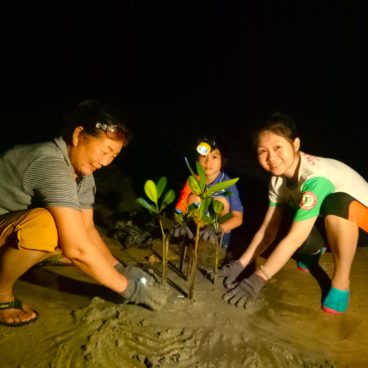 Mangrove tree planting *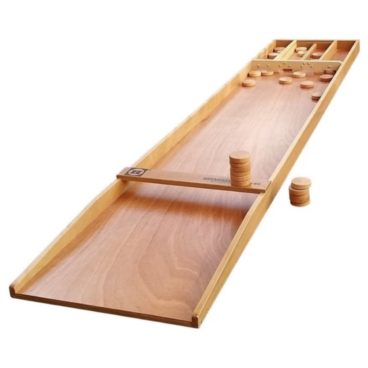 Sjoelbak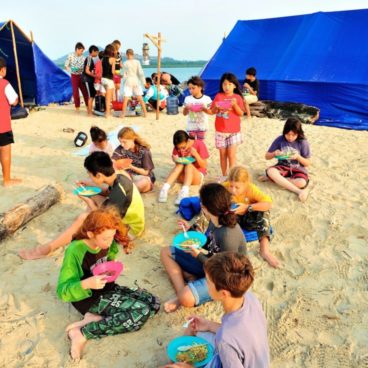 Camping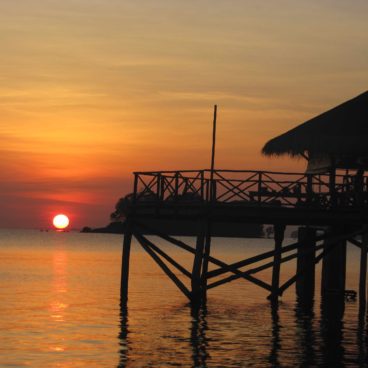 Sustainable construction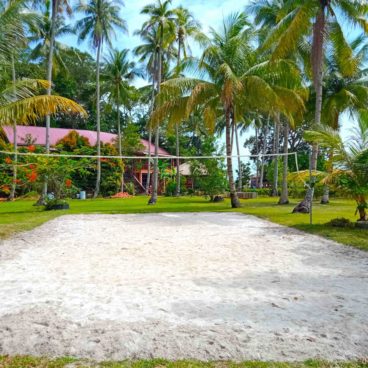 Volleyball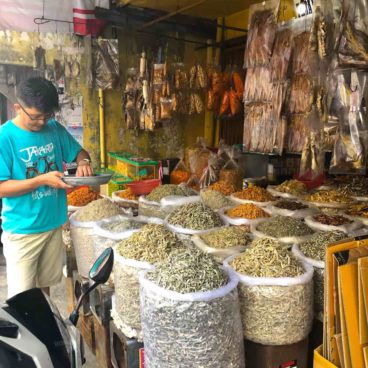 Market visits *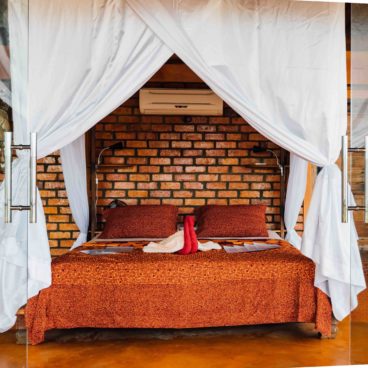 Eco cooling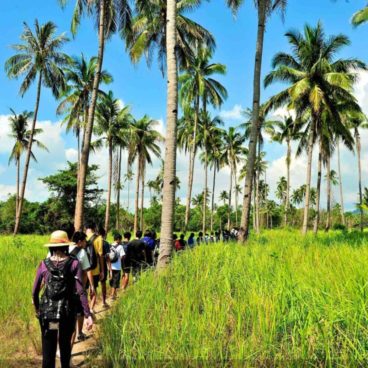 Kampung walk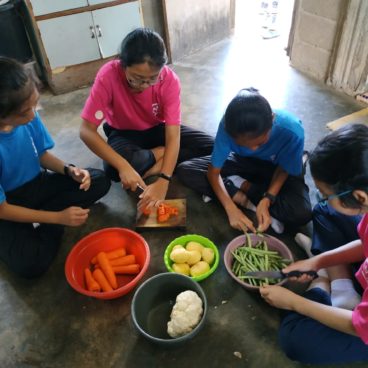 Outdoor cooking *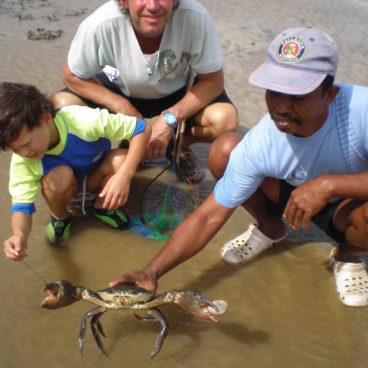 Fishing and Crab hunting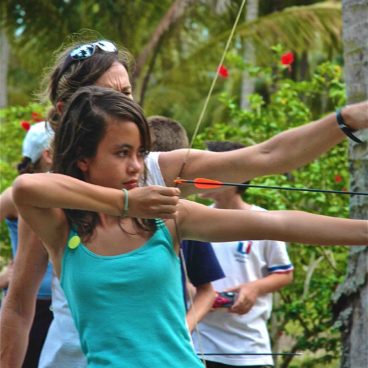 Archery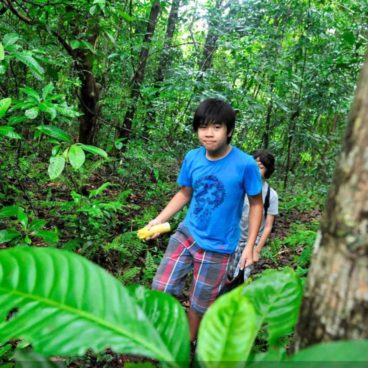 Hill treks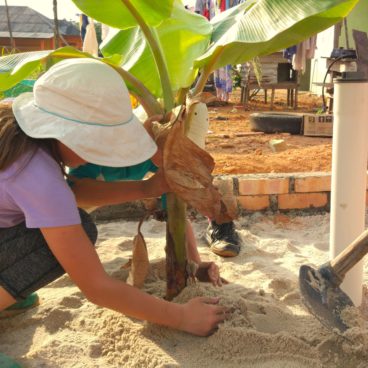 Safe Water Garden *
A chance to reconnect with nature ...
Fantastic accommodation
Our rooms
We offer an amazing array of choices, from survivor island to 5 star luxury.
Take a glimpse here, and if you want to know more, click the yellow button below!
National University of Singapore
LooLa has a close partnership, since 2016, with Prof Ng How Yong, director of the Environmental Research Institute, on the Safe Water Garden project.
The NUS Environmental Engineering students have worked on improving on our Safe Water Gardens as part of their study course. They came over to LooLa to implement the actual improved solution towards the end of their project.
LooLa has further worked with the student development centre, the sports centre and with the NUS architecture department, and Isa's villa was designed by a NUS student – see the accommodation slides!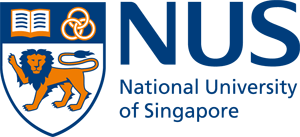 Singapore Management University
The SMU Business students did an entire semester course on LooLa in 2019. They were given a problem statement to research and conduct market surveys amongst target markets (schools, companies, families, millennials, religious organisations), to learn more about their unique requirements and investigate their appetite for sustainable travel
They had to present their findings as actionable business strategies to their Professors and LooLa, and LooLa followed many of these recommendations in our late 2019 marketing strategies. In fact, the website you're reading now is a direct result of their research insights!

Nanyang Technological University
The NTU communication students will embark on a sustainability semester course in 2020, helping to bring to life the LooLa story, and hence bring to life the story of sustainability. In doing so, they will directly help LooLa, but also develop their own communication skills.
INSEAD
INSEAD, ranked as one of the top three business schools in the world, is so intrigued by LooLa's business success that they will study and feature LooLa as a case study on how an SME (a Small or-Medium size Enterprise) can use sustainability as a business strategy to become profitable.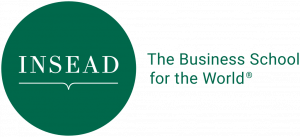 Singapore Polytechnic
LooLa has worked with the media department in the past and is now working with the school's Student Development department for recurring sustainability trips (five trips per year).
The students come over to experience –and help LooLa further develop and bring to life– our sustainability programs, in particular programs that develop local hospitality, the trash to cash project, and women empowerment.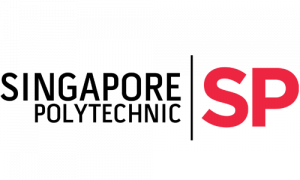 Nanyang Polytechnic
The department of health has come to LooLa for the last 5 years for a general team building trip, with 100 – 150 students every time.
The Oral-Health students practice their dentistry twice a year at the same local orphanage. This has become a classic win-win situation where students gain real experience in Dentistry while the orphans get highly enjoyable free dental check-ups. A crucial part of the Nanyang experience is the human angle: help the orphans overcome their fear for the dentist!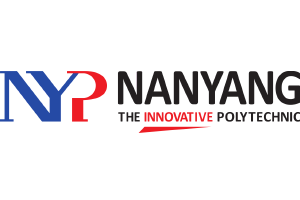 Outward Bound Singapore
OBS teamed up with LooLa in two important areas: OBS runs the final overseas kayak leg of its famous 21-day challenge programs with LooLa in the form of an exciting kayak-hopping expedition that starts in Tanjung Pinang in the West of Bintan and finishes at LooLa in the East.
OBS furthermore partners with LooLa in the Safe Water Garden (SWG) project, running SWG trips to Bintan for its alumni, and aiming to build SWGs on Pulau Ubin in 2020 in partnership with LooLa.

Other Student Projects
There are countless examples of school students doing semi-autonomous projects with LooLa, to help us with the sanitation project, to help develop local tourism capacity, to do arts and design projects, and to develop autonomous solar power solutions (just to name a few)
PASSION PROJECTS
The characteristics of such trips is that individual or small groups of students can apply for Leave of Absence from school to take on a Passion Project in LooLa (special students packages apply). These expeditions will boost personal growth as well as their resume's, because modern employers at leading firms set great store by evidence of such initiative and passion. LooLa is delighted to help the students in this journey of personal growth.
MOE & International Schools
MOE Schools – Level camps ( * = repeat camps)

Admiralty Sec
Assumption Sec (*)
Beatty Sec
Bukit Batok Sec
Bukit Merah Sec
Bukit Panjang High
Chung Cheng (*)
Commonwealth Sec
East View Sec
Fuhua Sec
Kuo Chuan Presbytarian
North Vista Sec (*)
Singapore American School (*)
St Anthony Canossian (*)
St Gabriel
St Nicholas (*)
St Theresa
Tanjung Katong Sec
Yuhua Sec
MOE Schools – Other camps:

Admiralty Sec
Ai Tong Pri
Anderson Sec
Anglo-Chinese Pri
Anglo-Chinese JC
Anglo-Chinese School (Indep)
Ang Mo Kio Sec
Assumption School
Beatty Sec
Bedok green Primary
Bedok Green Sec
Bedok South Sec
Bedok Town Sec
Bendemeer Sec
Bishan Park Sec
Boon Lay Sec
Broadrick Sec
Bukit Batok Sec
Bukit Merah Sec
Bukit Panjang Sec
Bukit Pajang High
Bukit View Sec
Catholic High
Catholic JC
ChangKat Changi Sec
Chestnut Drive Sec
CHIJ Toa Payoh
Chinese Girls school
Chong Boon Sec
Chung Cheng Sec
Clementi Woods Sec
Commonwealth Sec
Coral Sec
Deyi Sec
Dunearn Sec
Dunman High school
East Spring Pri
East View Sec
Evergreen Sec
Fajar Sec
First Toa Payoh
Fuhua Sec
Geylang Methodist Pri
Greenridge Pri
Greenridge Sec
Griffith Pri
Guangyang Sec
Hai Sing
Holy Innocents high school
Hwa Chong College
Innova JC
ITE Bedok
ITE Central
ITE East
ITE West
Kranji Sec
Kuo Chuan Presbytarian
Manjusri Sec
Maris Stella school
Marsiling Sec
Mayflower Sec
Mendaki
MLEP MOE HQ – Malay language unit
Millennia Institute
Nan Chiau
Nanyang Poly
Naval Base Pri
Naval Base Sec
Ngee Ann Poly
Northland Pri
Northland Sec
North View Sec
North Vista Sec
NTU + NUS + SMU + SIM !
Outram Sec
Opera Estate Pri
Orchid Park Sec
Pasir Ris Sec
Pei Hwa Sec
Pierce Sec
Punggol Sec
Queenstown Sec
Queensway Sec
Raffles Girls School
Regent Sec
River Valley Primary
Seng Kang Sec
Serangoon Gardens
Siglap Sec
Singapore Polytechnic
Singapore Sports School
Springfield
St. Andrew's Junior
St. Anthony Cannossian
St. Gabriel's Sec
St. Hilda
St. Nicholas
St Theresa
Tampines Sec
Tampines JC
Tanjong Katong Sec,
Tanjong Katong Girls Sec
Tao Nan Sec
Telok Kurau Sec
Temasek Polytechnic
Temasek JC
XinMin Sec
Yio Chu Kang Sec
Yio Chu Kang Gardens,
Yishun Town Sec
Yuan Ching Sec
Yuhua Sec
Yusof Ishak Sec
Whitley Sec
Woodlands Ring Pri
Woodlands Sec
ZhengHua Sec
ZhongHua Pri
ZhongHua Sec
International Schools

LooLa has ongoing contracts with most international schools based in Singapore, from primary to secondary level, who do year-group trips with us.
But we'd like to draw special attention to the CAS projects, where students take full ownership in the autonomous design and execution of a sustainability project that showcases their Creativity, Action and Service (CAS).

Alliance Francaise
Anglo-Chinese (International)
Australian International School
Australian International School (Malaysia)
Avondale Grammar School
Canadian International School Singapore
Canadian International School (Vietnam)
CalTex Pekanbaru (Indonesia)
Chatsworth International School
Chinese International School
Dulwich International School Singapore
EtonHouse (elementary, primary, secondary)
European School Singapore
Excelsior International School (JB, Malaysia)
French School – Lycee Francais Singapour
GEMS Singapore
Genesis school for the disabled
German School Singapore
Hollandse School (Dutch School)
Indian International School
International School of Jakarta (Indonesia)
International School Singapore
Jerudong International School (Brunei)
Linz school (Austria)
Marlborough College (JB, Malaysia)
Middleton International school
Nexus International School Singapore
Overseas Family College
NPS International School
Pacific Hills school (Sydney)
PSB Academy
Raffles American School (JB, Malaysia)
Singapore American School
St Joseph Institute (International)
St Joseph Institute (elementary)
Straits International School (Penang, Malaysia)
Surabaya International School (Indonesia)
Swiss school
Tanglin Trust School
Tenby International School (KL, Malaysia)
Tenby International School (Penang, Malaysia)
United World College
Uplands International school (Penang, Malaysia)
IBO Workshops 2017, 2019 & onwards
ESS, Biology, and soon –we hope– a brand new IBO Workshop "Outdoor Education"!
Stay tuned!

Bring sustainability to life with your school!
Sustainability education ...
It starts with our education institutions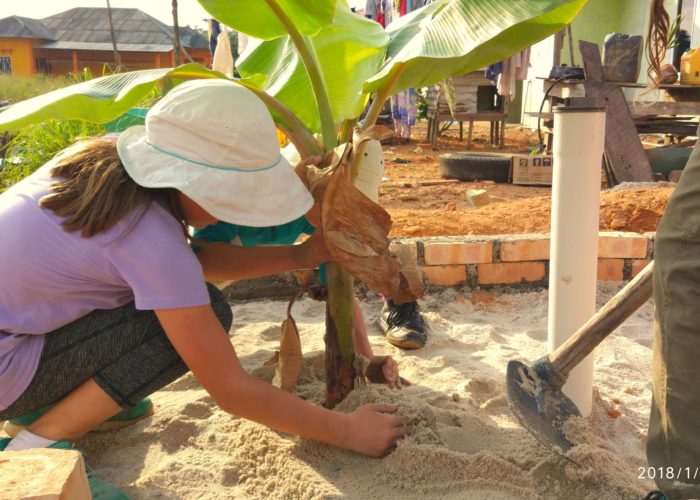 Students have made huge contributions towards solving the world's sanitation problem.

By 2019, students from LooLa's visiting schools had built more than 500 lifelong life-saving sanitation systems (our Safe Water Gardens or SWGs, for short) for local families. As a direct result of these pioneering efforts, in early 2020 the SWG was proclaimed part of Indonesia's national sanitation standard, and we are now in a position to bring SWGs to all villagers, nationwide –and your students will take part in this ongoing eco-revolution!

Children have natural empathy and can identify with local families, recognizing the things we share but also the (ecological) hardships... So they go all out to connect and help make things better, having tons of fun and growing tremendously in the process.

More generally, all 17 UN SDGs (United Nations Sustainable Development goals) fully come to life in our program. As part of our program, your students can engage in, for instance:

• Climate change: making their trip carbon-neutral by planting mangrove trees
• Water issues: bringing lifelong life-saving water and sanitation (SWG) to local village families
• Plant-based cooking: learning that vegetarian food is awesome if you cook it yourself!
• Understanding the human condition: promoting gender equality and (thus) happiness!
• Sustainable Infrastructure: Help build sustainable communities and co-develop homestay tourism

Note: the programs can be meaningfully extended and adopted upon return to Singapore and you can stay engaged!

Click the button below for a magical tour to learn more about our eco program
Eco in LooLa - the full tour
Discover the beauty of Bintan
Amazing scenery
Bintan is a gorgeous island with a 1,700-year long history.
In 2000, LooLa was its first international resort, so we could pick Bintan's most beautiful spot .... it was love at first sight!
We're still in love, and our dedicated local staff keeps enhancing the beauty of LooLa and our environment.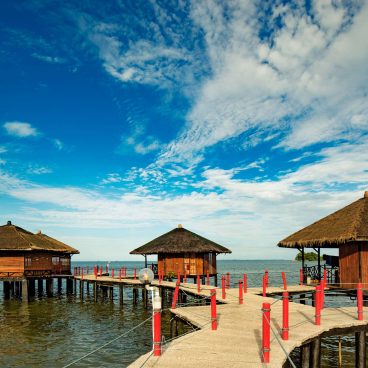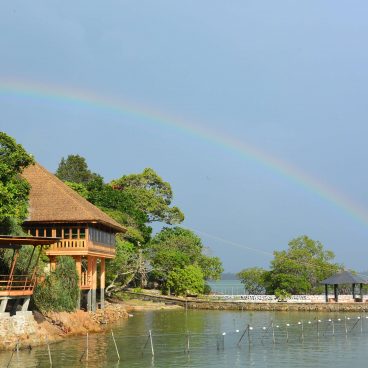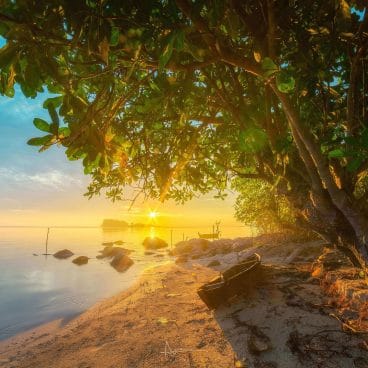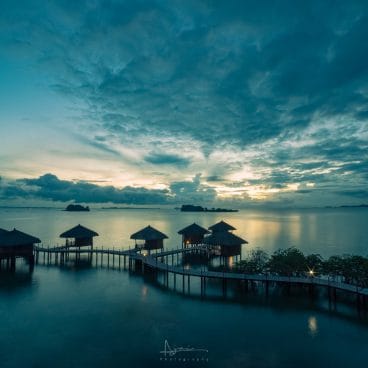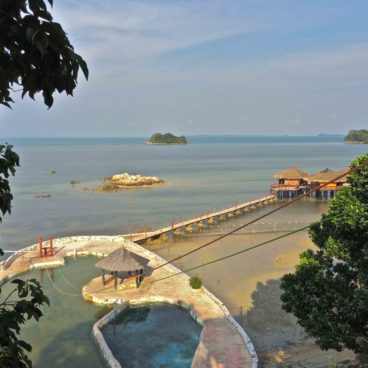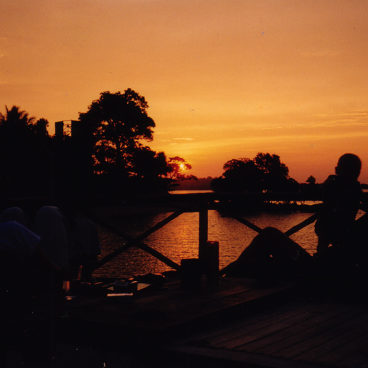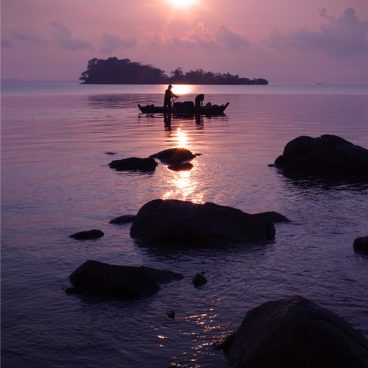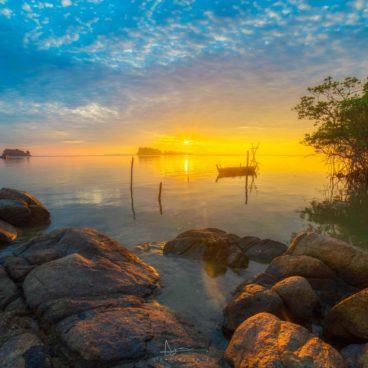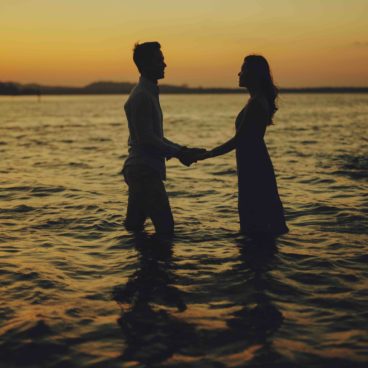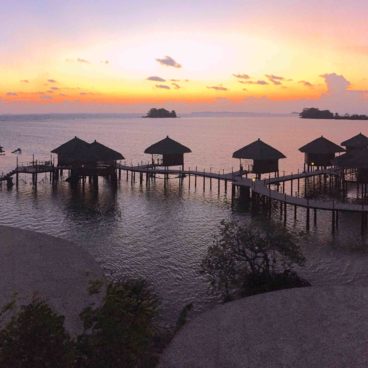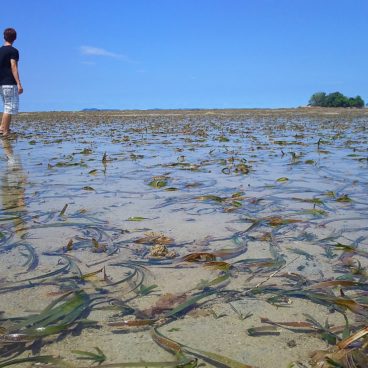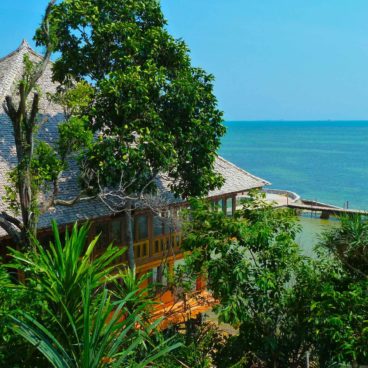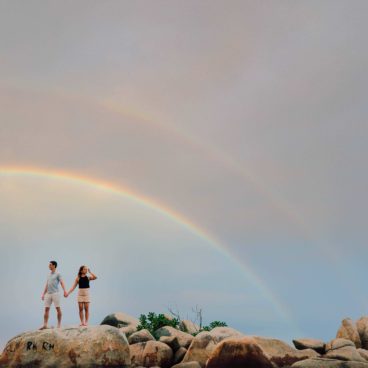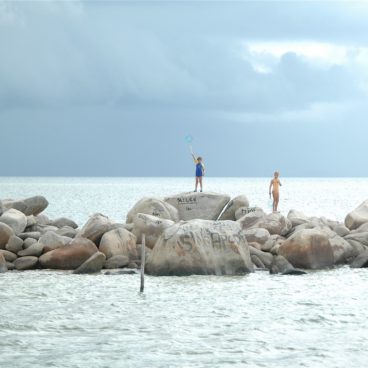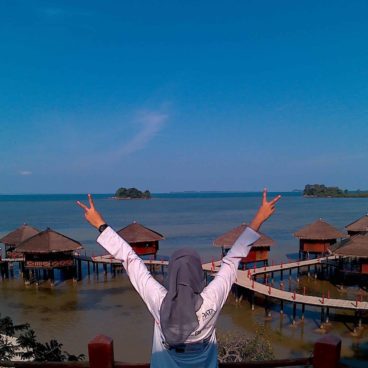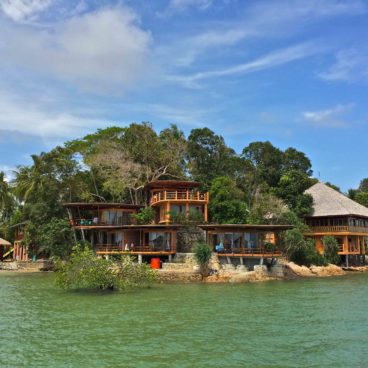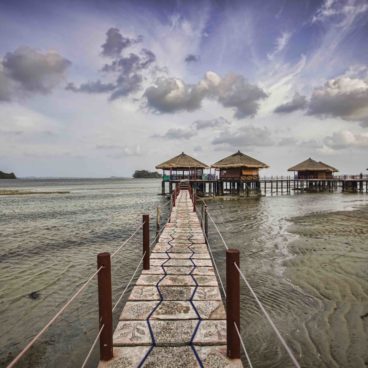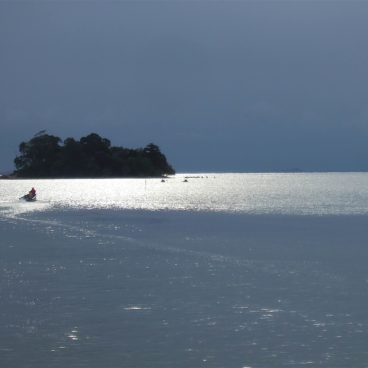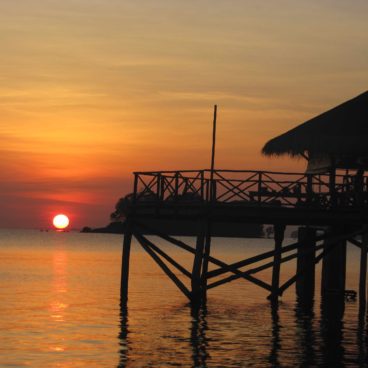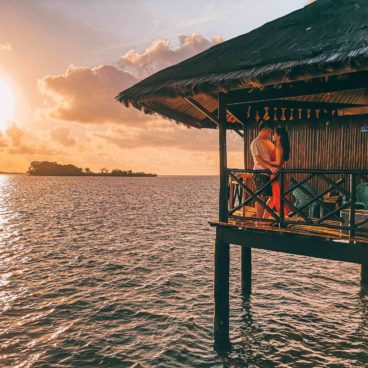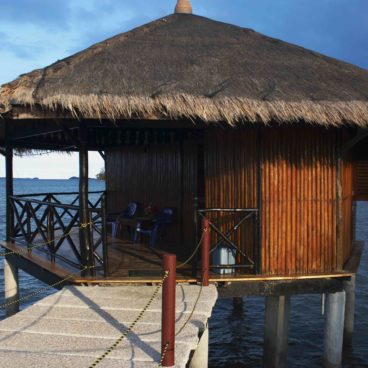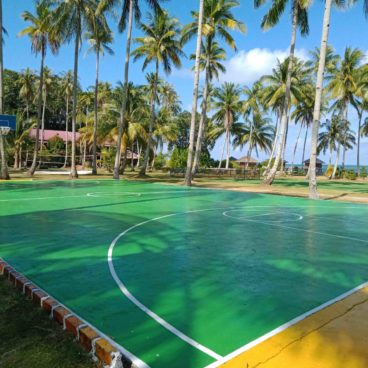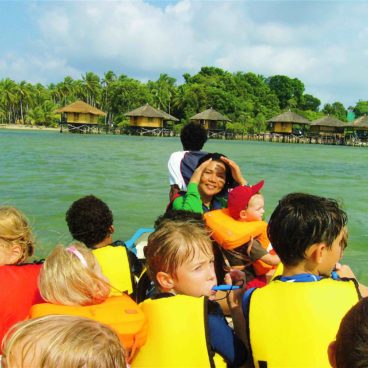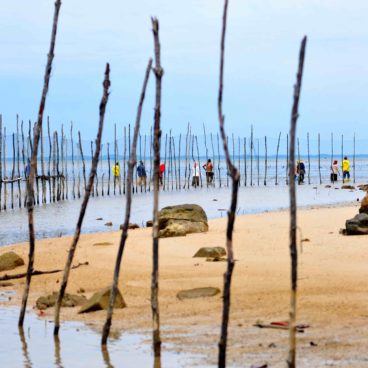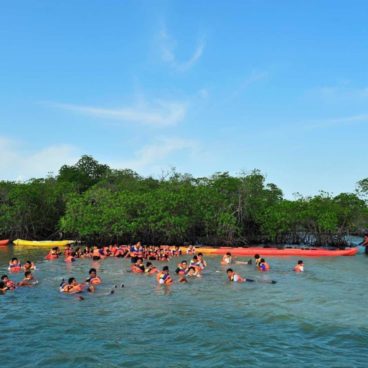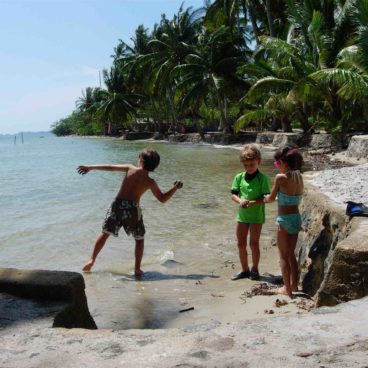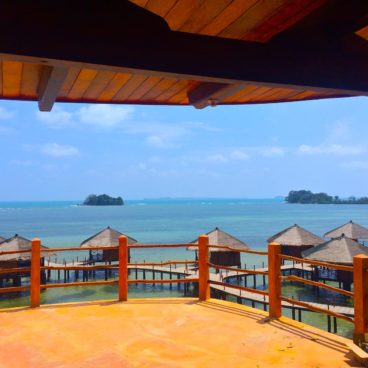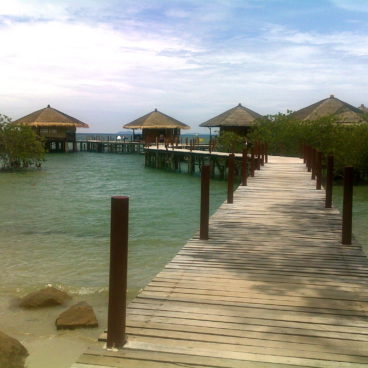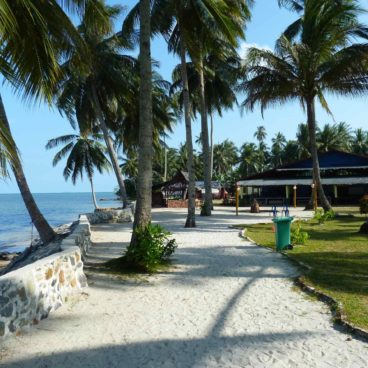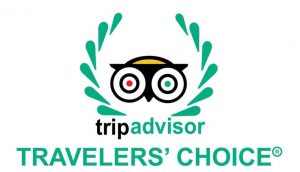 Bintan #1 TripAdvisor hotel
Demonstrating that LooLa also receives the highest customer awards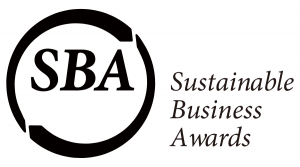 Singapore #1 sustainable SME
Singapore's Minister Masagos Zulkifli called LooLa an "inspiration for all companies to follow"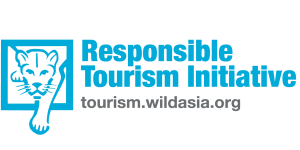 2012
Asia #1 Eco resort
Asia's most prestigious Ecotourism award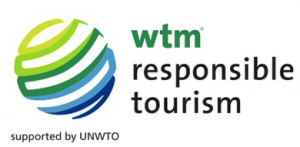 2015
World #1 Responsible Tourism Operator London
World's most prestigious Ecotourism award

Received a USD 45,000 Grant
to do our second pilot SWG village in Citarum (Indonesia's most polluted river area)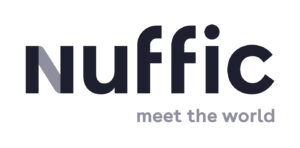 Received a EUR 147,000 Grant
from the Dutch government for research to (cost)optimize our Safe Water Garden (SWG)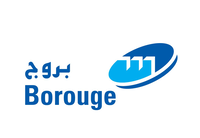 Received a USD 70,000 Grant
towards making the SWG Indonesia's national standard (succeeded late 2019)

Received a USD 50,000 Grant
to train Sinarmas teams to make their own Safe Water Gardens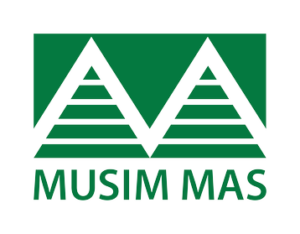 Received a SGD 50,000 Grant
to support Safe Water Garden construction and research

Received a € 100,000 Grant
for our first WASH knowledge center, empowering 1,500 Bintan families through 100 SWGs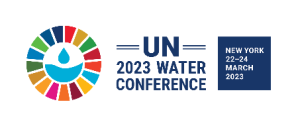 2023 UN Water Conference
Safe Water Garden invited to exhibit as one of only 6 examples of "scalable WASH innovation"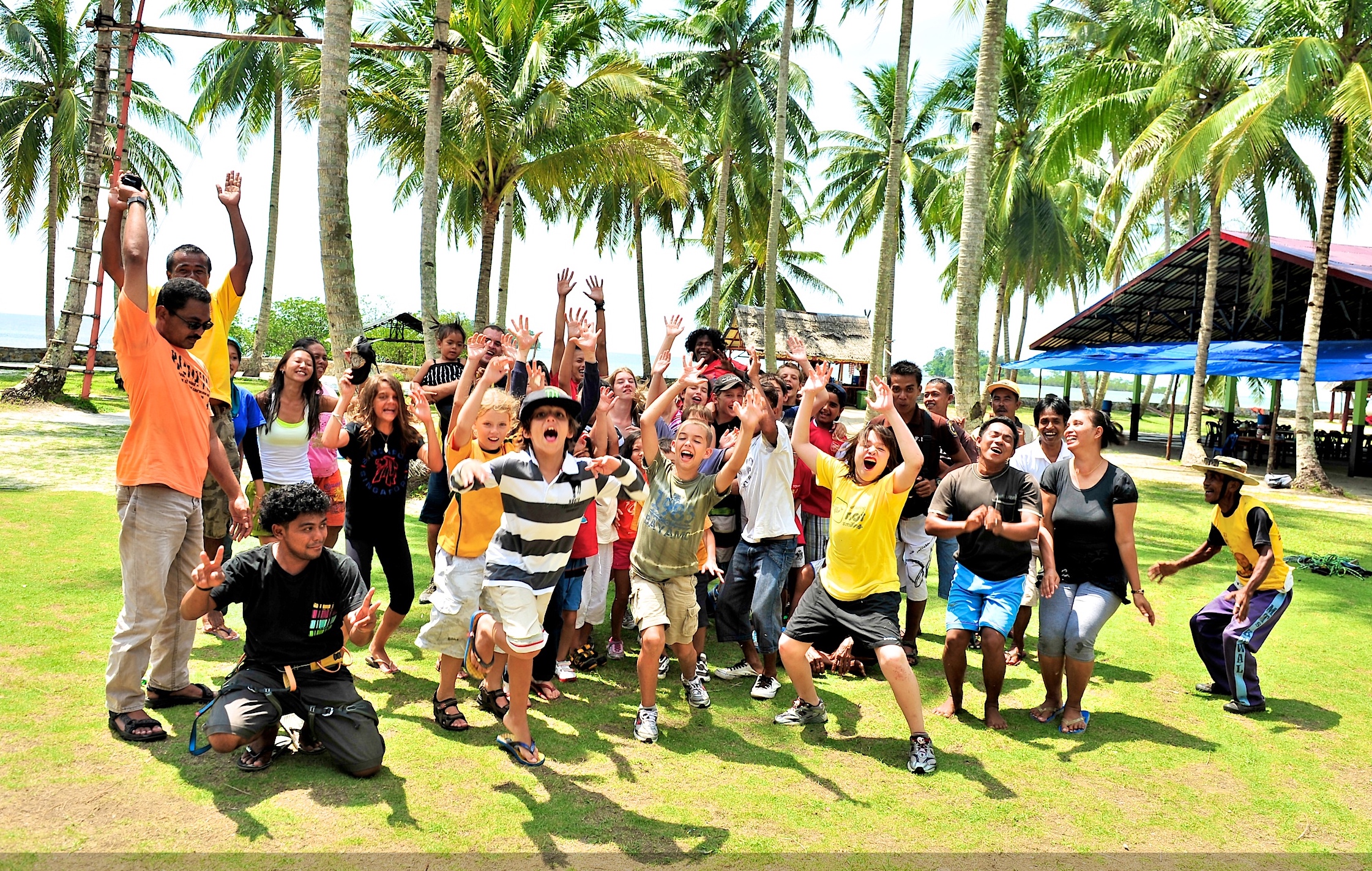 The Power of education +
Sample itineraries
LooLa is owned by two teachers (Dr Marc van Loo and Isabelle Lacoste, the "Loo" and "La" – see "Our story" on the Eco & Us page) who fell in love with Indonesia in their back-packer days in the late eighties. Using the money we saved as teachers, we built LooLa with fully local labour in 2000. LooLa was run, from day 1, by our fully local staff, who help our guests engage with the local community.
We are profoundly happy that we could live the teacher dream and demonstrate the power of education by showing that local village people –with an average education level of primary 6– could be taught to operate a world-class resort autonomously.
You can find more details about LooLa's sustainability programs and philosophy on the [Eco & Us] page, and even more info –including how we address each of the UN SDGs– at the end of that page.
We are always happy to fully customize the program to your school's objectives –and indeed, many of our best programs came about through strong long-term collaborations with our school guests. But if you're new to LooLa and you want to have a look at some sample programs, you can download these from our document page.
Contact us