HELP REALISE THE DREAM: LIFE-SAVING SANITATION FOR ALL THE WORLD'S VILLAGERS BY 2030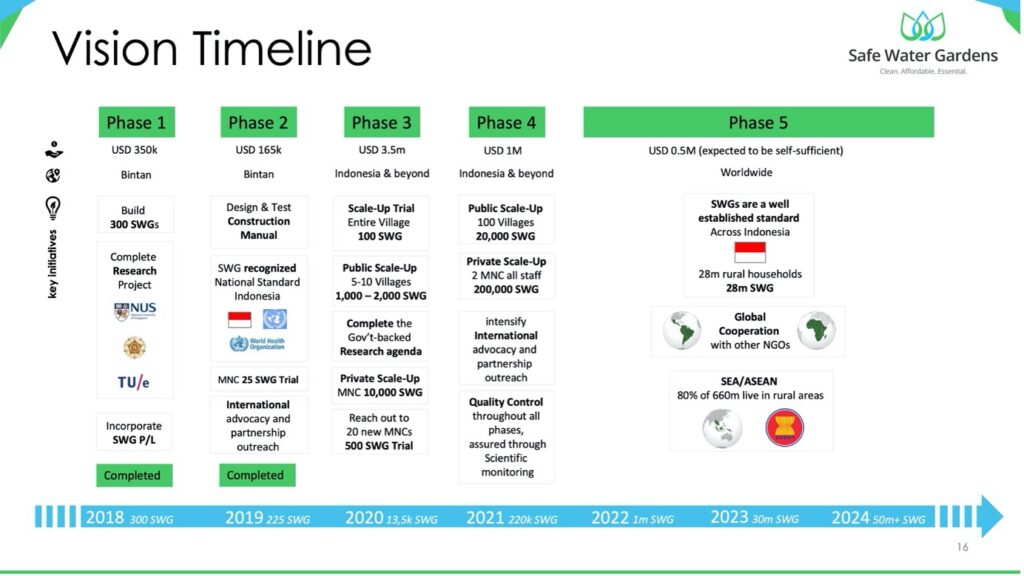 Background
Spurred on by the preventable death of the daughter of LooLa's cook, but inspired by the life-saving work of UNICEF et al after Aceh's tsunami, LooLa Eco Adventure – crowned World #1 Responsible Tourism Operator in London 2015 – formed a coalition with governments, world-class universities, and companies to optimize the UNICEF solution and make it even cheaper and easier to build locally.
In 2019, after 3 years of extensive research, we had our result, the "Safe Water Garden" (SWG).
The Indonesian government very quickly recognized the SWG's potential to address the national sanitation issue:
They declared it fit for use in early 2020, making the SWG ☞officially☜ the world's most cost-efficient sanitation system (ref safewatergardens.org/cost-efficiency )
Just before the onset of COVID, it looked like our vision(Image to the right), was fully on track, with major companies announcing they were ready to join forces, but COVID put a complete stop to our Eco travel and it severely slowed the developments with the Safe Water Gardens, pushing us into loss-making territory.
Progress during COVID
This is not to say we made no progress during COVID:
We managed to complete our first pilot village in March 2021, demonstrating that our scale-up model works and that villagers can be empowered to build their own Safe Water Gardens
The biggest pipe maker in Indonesia, Rucika, signed up to become a full partner and they designed a standard "LEGO-like" plug and play kit, which was first use in the pilot village
We secured USD 45,000 from the Rotary Club to do a second pilot village (scheduled for July 2021) in the Citarum area, possible the most polluted river-shed areas in the world, where we aim to test how many families can be connected to a single SWG
We successfully launched our revolutionary Virtual Eco journeys (see this webpage), allowing visitors to connect with Indonesian families and install SWGs together over Zoom.
We opened a social enterprise company in Singapore, Safe Water Gardens (SWG) Pte Ltd, with eminent board members to manage the global rollout of the SWGs
Job Title: Social Media Specialist
Responsibilities
SWG is looking for inspired and committed team members to help create a sustainable business to make the world a better place.  By volunteering, you become a part of that effort.  When you succeed in driving results, the volunteer position can be transitioned to a paid contractor position.
The candidate can be located anywhere but would be required to participate in conference calls with other staff members during business hours in Asia.
In the proposed role, below, the volunteer is responsible for social media marketing for Safe Water Gardens Pte Ltd (SWG), a registered Singapore Social Enterprise aiming to provide the world's villagers with access to lifesaving sanitation, starting with Indonesia.  This will be done in coordination with Loola Eco Adventure in Singapore and Bintan, Indonesia, since LooLa is the company that offers virtual and physical tours for benefactors who sponsor the Safe Water Garden project and coordinates and executes the water and sanitation programs in Indonesia.
Responsibilities include marketing and social media campaigns and strategies, including budget planning, content ideation, and implementation schedules. The Director will create and distribute engaging written or graphic content in the form of e-newsletters, web page and blog content, or social media messages.  They must develop social media presence on major platforms such as Facebook, Instagram, LinkedIn, YouTube, etc, and create and manage social media advertising.
The goal is to gradually build a community to achieve superior customer engagement and intimacy, website traffic and revenue.  In SWG context, customers are mainly benefactors who sponsor safe water gardens as part of personal cross-cultural experiences with local Indonesians who receive the safe water garden in exchange for hosting.
Build and execute a social media strategy through, platform selection, messaging and audience identification.
Generate, edit, publish, and share content on a regular schedule.
Moderate all user-generated content and engagement for effectiveness and appropriateness.
Capture and analyse the appropriate social data/metrics, insights and best practices, and act on the information.  Move leads from social media to the sales funnel and track for closure.  (Note: the Director is not responsible for closing sales, but can be awarded compensation when a significant social media driven sale closes).
Collaborate with LooLa Eco Adventure for content synergy and tracking of impact of social media marketing.
Track fund raising from direct donations to the fund for purchase of safe water gardens provided to needy families.
Requirements
Proven working experience in social media marketing or related academic training and certifications.
Skilled in copy writing, editing of text and graphics, presentations, and verbal communication (e.g. facilitating live streams or webinars).
Demonstrable social networking experience and social analytics tools knowledge, e.g. Google Analytics
Adequate knowledge of web design, web development (WordPress), and SEO
Knowledge of online marketing and good understanding of major marketing channels
Ability to advise the management on best practices in social media marketing and develop investment proposals for SWG leadership approval.
Fluency in English.  Proficiency in Indonesian is a plus.
Self-directed and able to accomplish goals without supervision.
Interested?
Contact us at info@loola.net